Page Title goes here
short description
CurrentNews:
Flag Football
Labor Day Tournament
We have some Leagues and Tournaments coming up.

Rules
Arizona Local Rules
All Arizona tournaments follow the rules at Nations-Baseball.com with the following exceptions:
ROSTER "FREEZE" RULES
PBA and Nations Baseball Arizona are NOT playing by the Nations Baseball roster freeze rules. Instead, we will be freezing ONLY those teams who win and accept a berth to a Nations Baseball World Series. In other words, with very few exceptions, we will be playing with an "Open Roster" policy this spring and summer.
COURTESY RUNNER
If no proper replacements are available, the last batted out may run for the pitcher or catcher. NO TIES! Even if the time limit has expired, we are instituting a "no ties" policy. And no, we don't play a gimmicky tie-breaker either. We play baseball. For the sake of clarity: Runs given up in extra innings count.
SUBSTITUTES ON LINEUP CARDS
When not batting the entire roster, all subs must be listed on the lineup card given to the home plate umpire pre-game. If a sub is not listed, they are not eligible to play.
METAL CLEATS
Metal cleats are allowed in 12U and up divisions. No Metal cleats are allowed on portable mounds.
CATCHERS' HELMETS
Catchers may wear either the 1 piece (hockey-style) or 2-piece mask at all ages. Ears must be covered.
EJECTIONS
Players ejected from a game will sit the remainder of that game only. Additional penalties may be applied by the tournament director. If a manager or coach is ejected from a game, they will sit out that game and the next game. The penalty could be longer depending on the severity of the situation. An adult ejected for use of profanity or who makes or implies threats to the well-being of an umpire, tournament director, player or another coach will be banned from the tournament premises and may face suspension from Nations Baseball.
GAME CARDS
Our umpires keep the official score and pitching record. We do not utilize "pitching affidavits". Coaches, please double-check the score and pitching. Once you affix your signature to the game card, the score and pitching innings are official and will not be changed unless your opponent agrees that a mistake was made. Think of it like golf, signing an improper scorecard means you got that score.
MLB RULES
We are governed by Major League rules with the exception of those rules modified by Nations Baseball Arizona.
FORCE PLAY SLIDE RULE
Nations Baseball Arizona will use the NFHS rule.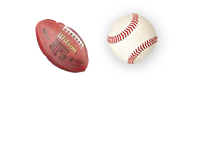 ARIZONA'S #1 CHOICE IN TRAVEL BALL